Replicating a feathered look on your nails is probably one of the hardest things I could think of to do with nail art. It's not just the pattern or the dozens of thin lines, but the fact that you really can't represent the light and airy feel of 3D feathers. Still, it doesn't keep me from being inspired by gorgeous feather featuring pictures like the ones I'll be showing you today.
The
Kissing Canaries Elliana
Bag from Kate Spade is a huge handbag lemming of mine. Granted the $400 price tag has me stalled, but it doesn't change how the feminine and soft baby pink feathers continue to call my name! And that's not even going into how adorable the little gold gem-crusted canaries perched by the clasp are.
Oh yes, I'm head over heels for this little clutch, which is why I think I was so drawn to this feathered capelet that the model in the below picture is wearing. I'm not sure if it's just some sort of shawl or part of a larger garment (the source via pinterest doesn't give me the original web source or designer) but that doesn't stop me from drooling over the rhinestone encrusted lace.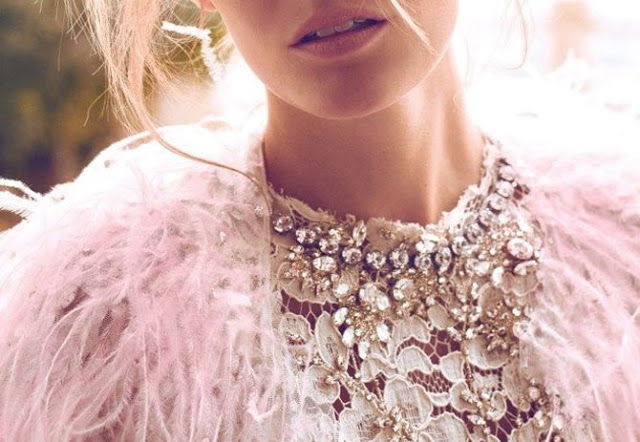 Can't you just see a gorgeous lace design manicure with large gems encrusted around the base of one nail, all over a baby pink base? Or maybe small gems on each nail, and an accent nail with larger gems? Yup, I can see it in my head and it would be beautiful. Now if only I actually had the nail art painting skills to execute it!
What manicure do you envision when you look at these pictures? Does it inspire a color palette for you?
Let me know in the comments! Thanks for reading!
Picture Source: click for source, click for pin.